Changes we're making to our parks to safely welcome you back
In light of the Coronavirus challenges we are all facing, here at Shorefield Holidays we have been busy making lots of updates across our Dorset & New Forest holiday parks to safely welcome you back as soon as we can.
A Shorefield getaway is perfect for anyone looking to enjoy a UK holiday in some of the South Coast's most stunning locations. Our self-contained accommodation is well distanced with plenty of space between one another and some of the most scenic outdoor spaces right on our doorstep.
The wellbeing of our guests, owners and staff is our top priority, therefore we are taking new steps for added safety to ensure fantastic holidays for everyone.

Our safer Shorefield Holidays feature six key focuses:
1. Contactless Check-in & Check-out
All our holidays now feature contactless check-in, meaning you don't need to visit Reception to collect your key!

For our self-catering accommodation, on the day of your arrival we'll send you a text to let you know your holiday home number as well as details of how to find our accommodation on park. You can then simply head straight to your accommodation where your key will be securely waiting for you in a safe location, letting you make the most of every moment.
There's no need to pop to Reception to check out or return your key either! Simply use our Online Portal to let us know when you have checked out.
2. Cleaning Procedures
Our cleaning procedures have had a complete overhaul too, meaning every single holiday home is cleaned to exceptionally high standards.
If you're camping with us, our shared shower and toilet facilities will also have more frequent and enhanced cleaning schedules. We will be focusing on touch points in these facilities too, with increased sanitation in these areas. We do however advise that you make use of your own 'on board' facilities in your motorhome or tourer as much as possible where available.

3. The Shorefield App
If for any reason you need to chat with our Customer Experience Team, you can use our app to chat directly and let us know straight away. We're hoping this will make it easy and hassle-free for you to reach us and help us resolve anything not quite right.
Not only that, but our app is full of handy tips for making the most of our holiday parks and local area too!

Download it from the App Store or Google Play before you arrive.
4. Outside Dining & Food Delivery Service
After a day of exploring (or indeed a day of relaxing!) the last thing you want to do is to cook… We totally get it! You can now come on down to enjoy your favourite tipple alongside a delicious meal, without the hassle of cooking or washing up!

We continue to encourage the use of face coverings when visiting our indoor facilities, including our bars and restaurants.
We'll also be offering a food delivery service from our restaurants at Shorefield Country Park and Oakdene Forest Park, directly to your holiday home!

All you need to do is download our separate Shorefield Eat app and have a look at our menus. Once you've found something that takes your fancy, place your order and our teams will start preparing your meal. When it's ready, a member of the team will deliver your delicious feast to your door.
5. What facilities will be open?
Last updated 25th September 2021: We are delighted that all our usual facilities have now reopened! As a handy guide this includes:
Our on-site shops
Entertainment and dancefloors at Oakdene and Shorefield
Outdoor play areas at all parks
Indoor swimming pools at all parks
Our saunas and steam rooms
Our changing rooms
Gyms (Oakdene and Shorefield only, pre-booking required)
Indoor bars and restaurants at Oakdene and Shorefield. Order from our app!
Outdoor dining and food delivery service to your accommodation at Shorefield & Oakdene. Order from our app.
Go Active+ Activities at Oakdene (pre-booking required)

Woof's Workshop daytime activities at Oakdene and Shorefield (pre-booking required)
Adventure Golf at Oakdene
Escape Room Experiences at Oakdene (pre-booking required)

Indoor arcades at Oakdene and Shorefield
Outdoor sports courts at Shorefield and Wilksworth (pre-booking required)
Outdoor swimming pools (now closed for the 2021 season)
Reflections Day Spa at Shorefield
Our outdoor swimming pools across all our parks are now closed. These are open seasonally, typically from the end of May until the beginning of September each year and will therefore reopen in 2022.
Please note, we no longer offer The Retreat Bar and Atrium at Merley Court.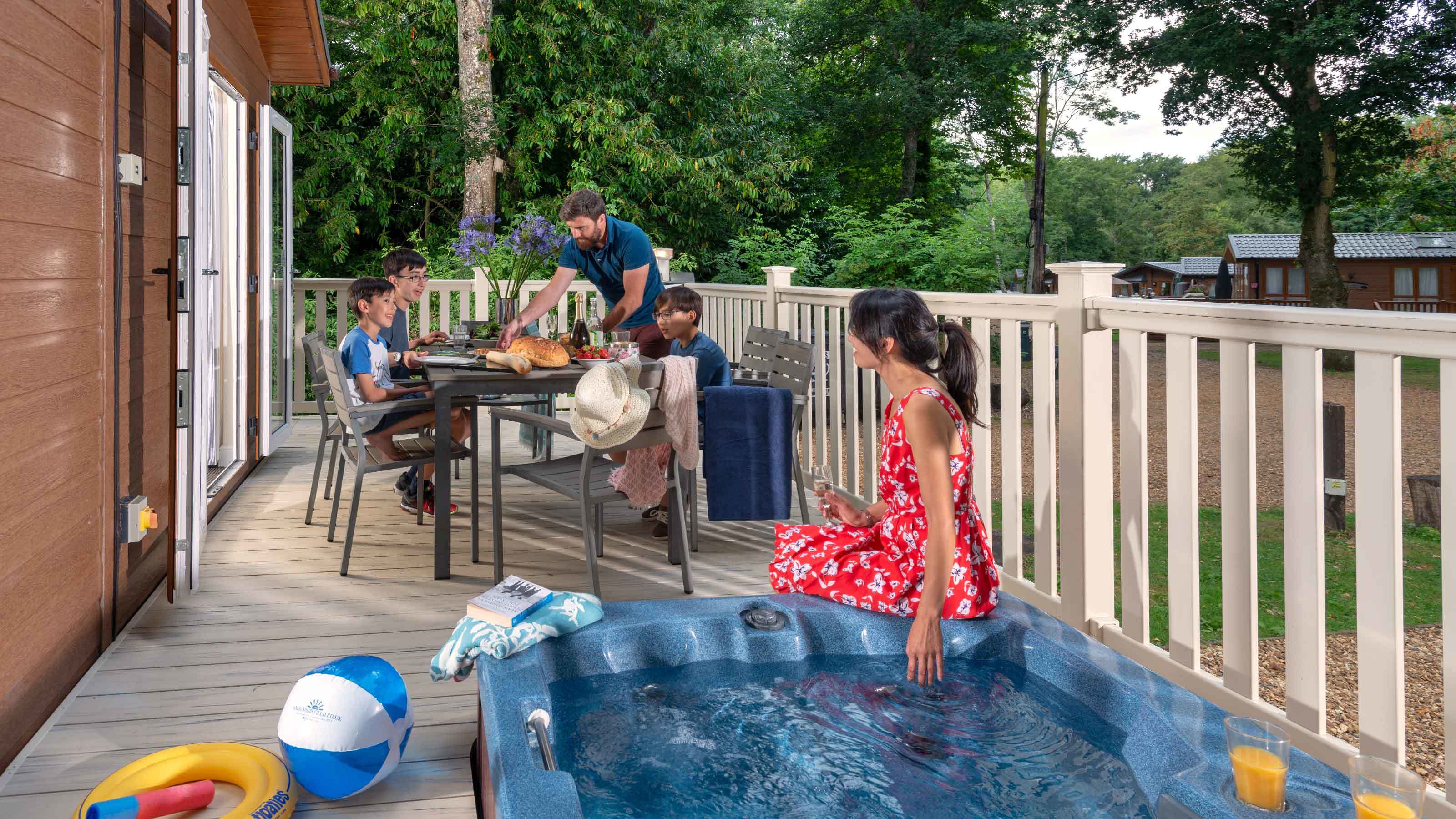 We'll be sure to keep this list regularly updated with any changes, or you can follow us on Facebook to stay in the know with any new announcements!
6. Socially Distanced Accommodation
If you do need to pick up some essentials from our on-site shops, visit our holiday home ownership offices or simply pop to reception for any reason, that's no problem! We've introduced protective separator screens to help give you peace of mind. We'll also have hand sanitiser available for use at our receptions and shops.

What's more, all our self-contained holiday homes across our parks are at least 5 metres apart, giving you plenty of space between your closest neighbour and making them the perfect choice for a socially distanced getaway in Dorset or the New Forest.
Enjoy Open Spaces
We've certainly missed having you all here with us and whilst your next getaway may look slightly different, there's still lots to enjoy with all the open space you could need right on our doorstep.
It goes without saying that we can't wait to welcome you back again soon to enjoy the rolling landscapes of the New Forest, vast coastlines and miles of sandy beaches.